Our philosophy at LaClair Family Dental has always been continuous life-long learning with the purpose of serving our community with better dentistry.  Therefore we participate in continuing dental education constantly and consistently. We strive always to bring world-class healthcare to our rural area. Our facility is paperless and "green", and completely outfitted with the latest technology to provide a comfortable, high-technology environment. You will find that much of the dental work we provide is digitally based, making it much more accurate, longer lasting, and faster to perform, therefore providing more comfort to our patients.
Parents, your children's oral health is incredibly important. Here at our dental office, we routinely see children as young as 6 months old to prepare them for a lifetime of healthy smiles. Preventive measures, like fluoride use and the placement of sealants on molars, are performed at our dental office as a means to fight the tooth decay process. Here is a helpful link to inform you about your child's oral healthcare: http://ada.org/353.aspx
Two appointment high-tech metal free dentures
Cleanings and periodontal treatment
Single visit root canal therapy
Orthodontics (teeth straightening)
Bridges (permanent missing tooth replacement)
General dentistry
Athletic mouthguards
TMJ therapy
Invisalign and Clear Correct clear braces
Snoring and sleep apnea
Traditional wire braces
Implants (missing tooth replacement)
Botox wrinkle removal and lip enhancement
Fillings (tooth colored composite resin OR durable and high value silver amalgam)
Extractions
Laser treatments for canker sores and gum re-contouring
Cosmetic smile makeovers- Single visit in office or home whitening and veneers
Single visit Crowns
All your dental needs can and will be our pleasure to treat for you and your family!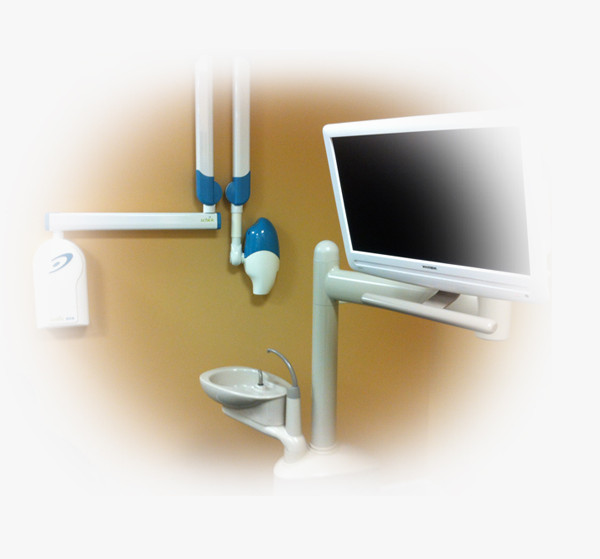 Cosmetic Dentistry
Cosmetic dentistry is a fabulous service. Isn't it true that we tend to take better care of those things that we love, especially in terms of looks and appearance? Take for example, a new car. Our tendency might be to wash it a little more, or to park a little further from the other cars in a parking lot, as not to invite scratches or dings. The sameholds true for a beautiful smile. We brush it more, floss it, generally feel good about it. Maybe we flash our smile a little more in the mirror when we are happy with how our smile looks. A beautiful smile contains further bounds into our minds and hearts than just a few extra glances into the mirror. Terrific smiles attract other people. A fabulous smile can instill great confidence, and improvements to your smile can create wonderful changes to your life. That's why in today's day and age, when looks and appearance are becoming more and more important, dentistry provides real solutions to improve how your smile looks. Something simple, like teeth whitening, or something a little more comprehensive, like veneers, can take ages off your smile, or completely revamp it, to make it look the way you want it- beautiful or handsome, in often very short amounts of time. At LaClair Family Dental, we have routinely performed these services for individuals just like yourself, and have the pictures to show you our work. Happy people, that took the chance to change their smile, and smile they do. Dr. Rob is a trained Lumineer veneer provider, and also has training to straighten your teeth to enhance it orthodontically. Whitening your teeth is a fabulous service too- all your cosmetic dental needs can be treated at LaClair Family Dental. If you love how something makes you feel, you tend to take better care of it. We all deserve a smile we can be proud of. From the moment we meet you it's our goal to help you take the best care of your smile. Wouldn't it be great if we made you love your smile's looks too? So what are you waiting for? Smile right…Now. At LaClair Family Dental.
At LaClair Family Dental, we offer all types of quality dental care. We also work very closely with area specialists, and have developed a strong relationship with them over many, many years. Here is a brief list of services that we proudly offer the Northern New York communities of Carthage, Watertown, and Lowville and the remainder of the North Country.